Worker Concerns, Job Trends, and Employer Tips Amidst Coronavirus
April 9, 2020
To say COVID-19 is changing the world of work is an understatement. Layoffs dominate the news and unemployment claims are breaking records weekly, but there are many employers still looking to hire workers to meet changing business needs. Prospective workers are actively seeking those jobs, but facing new anxieties. Jobcase sits at the nexus of employers and America's workers, and we hope the data and perspectives we share can do a little bit to help everyone navigate this challenging time.

Job-seekers have new concerns. In our March Jobcase survey, over 50% of job-seekers stated that they are concerned about exposure or health risks during the recruitment process. And 66% of respondents stated that exposure or health risks are a top concern about working during this time.
Additionally, 48% of job-seekers surveyed identified lack of job availability as a top concern about finding work, and their concerns are certainly warranted. Trends in Jobcase job posting data reflect the overall trend of the economy: job postings decreased nearly 20% from February 1st to the end of March. Many industries have faced even steeper declines; for example hospitality has seen a 42% decrease in job postings on Jobcase.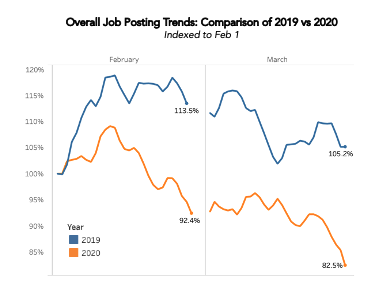 Notably, there are a few key industries that have seen increases in job postings on Jobcase during this time. Warehouse workers were highly sought after during March, with job postings increasing by 30% toward the middle of the month. After the flurry of activity subsided, the end of March and early April have shown a return to job availability levels on par with early February.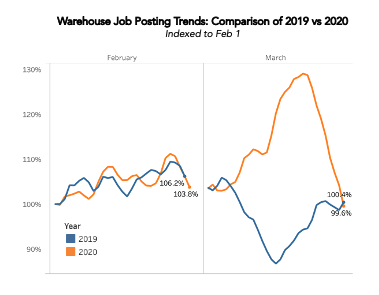 In order to effectively recruit and hire talent during this challenging time, it is important for employers to address these new job-seeker concerns and bring creative ideas to the fore. As Tara Marcelle, Vice President Recruiting – Global Business Services from Kelly Services recently shared with Jobcase: "We are obviously dealing with some overwhelming circumstances right now and coordinating high volume hiring has required us to be creative."
From conversations with our existing employer partners along with the conversations with some of the millions of job-seekers on Jobcase.com everyday, we offer these tips to help employers navigate this crisis:
Use virtual recruitment whenever possible, including phone, text, and/or video technology to engage with candidates. Modify your recruitment processes to ensure the safety of job-seekers, recruiters, and hiring managers while still maintaining integrity and rigor of candidate evaluation. Learn more about Jobcase's

virtual hiring event platform

here.
Ensure recruiters understand safety protocols to minimize health risks. If in-person interactions are required during recruitment, ensure safe processes and protective equipment are in place and are being used by both recruiters and job-seekers. There are fantastic resources for employers put together by the CDC,

US Department of Labor

, and the US Small Business Administration that can be leveraged to build robust protocols.
Communicate health safety practices with job-seekers during recruitment. Publish how you are changing your recruitment process on your website. Be clear about how you are protecting your employees on the job, along with any changes to healthcare benefits or sick leave policies. A great example of this is the Walmart Coronavirus page.
Promote remote jobs differently. Modify job titles and descriptions to highlight where jobs are now being hired for remote work. Be clear with the job-seeker on expectations for working hours and required remote working environment.
Be authentic and show you care. In such an uncertain time with high anxieties and new concerns, showing your human side is critical. Adding a personal touch to interactions with job-seekers can go a long way to building trust and hiring great talent.
Even if your company is not recruiting right now, there is still a lot you can do:
Come view the Jobcase Coronavirus resource center to learn more about the concerns of workers during this time. This can inform your company's policies in the workplace, or how you can best support workers in the event that you have to furlough or lay off workers in this challenging time.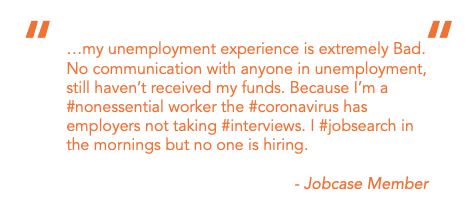 Create a Jobcase group to stay connected with your workers. With Jobcase Groups, you can share information with your employees or alumni during this crisis. This allows you to reconnect with your best staff once business conditions have improved and you want to hire them back.
Come participate in our community. Jobcase is a source of not only information, but also encouragement for millions of America's workers. We'd love you to add your advice and encouragement. It can have a meaningful impact on someone's life.
The nimble, responsive, and creative employers will make it through the challenges we face and will have stronger employer brands and more committed workforces as a result, as impressions made and bonds formed during hardship can be some of the strongest. We encourage you to leverage the Jobcase community to get information out and connect personally with workers during this new world of recruitment.
Interested in learning more? Read Jobcase's report on COVID-19 Conversation Trends & Job Promotion Tips