Food Service Hiring Report
May 4, 2021
3 Important Trends for Food Service Employers
1. The Worker Stream is Still Trickling
With initial unemployment filings still higher than before the pandemic, one would think the reopening of many states and job opportunities would be met with enthusiasm. So, what happened in March? While employment has varied by state and region depending on weather, economic conditions, and vaccine rollout – the consistent trend is that it's still hard to find workers.
Some cities with the most relaxed COVID restrictions – like those in Texas – are seeing some real momentum in job listings and job seeker interest. However, others – like in Florida – have taken a recent step back. As seen in the chart below, there is not always an equal correlation between job listings and worker interest. 
Some important factors when looking at our largest metro areas: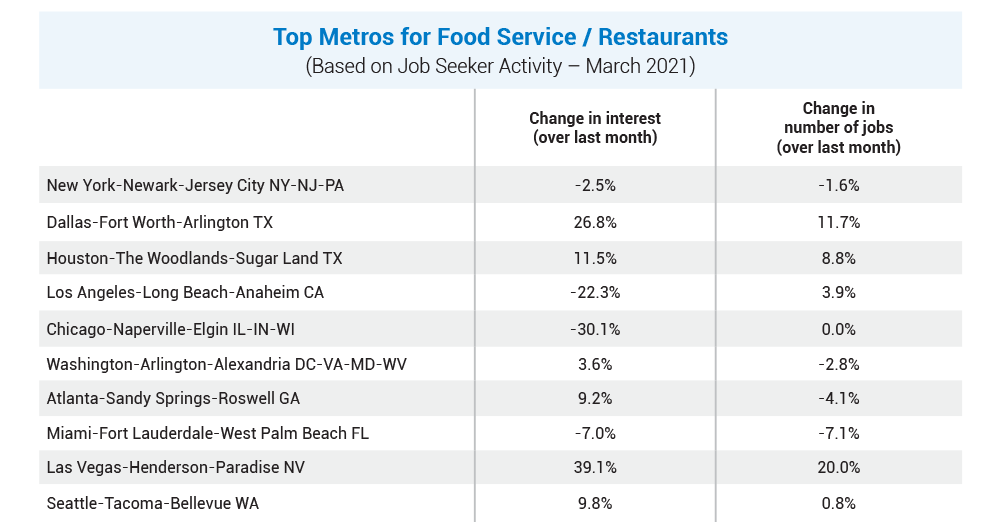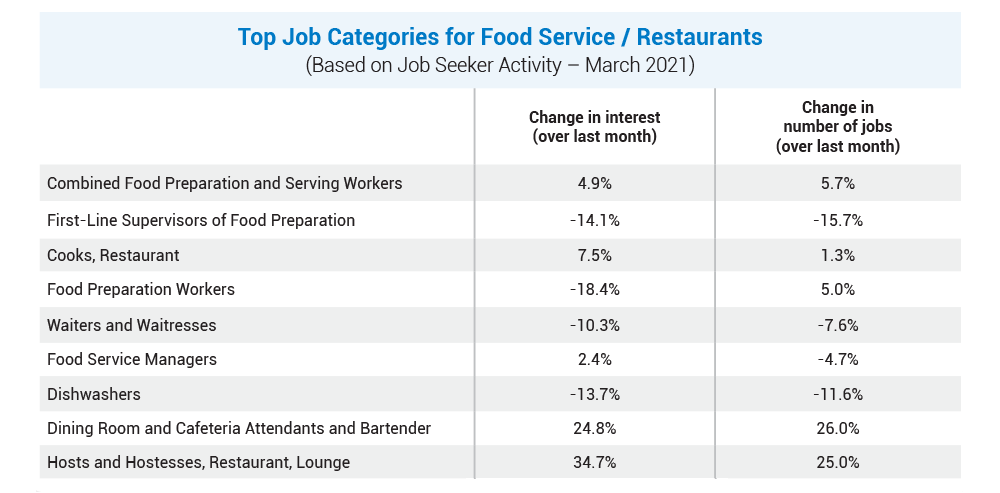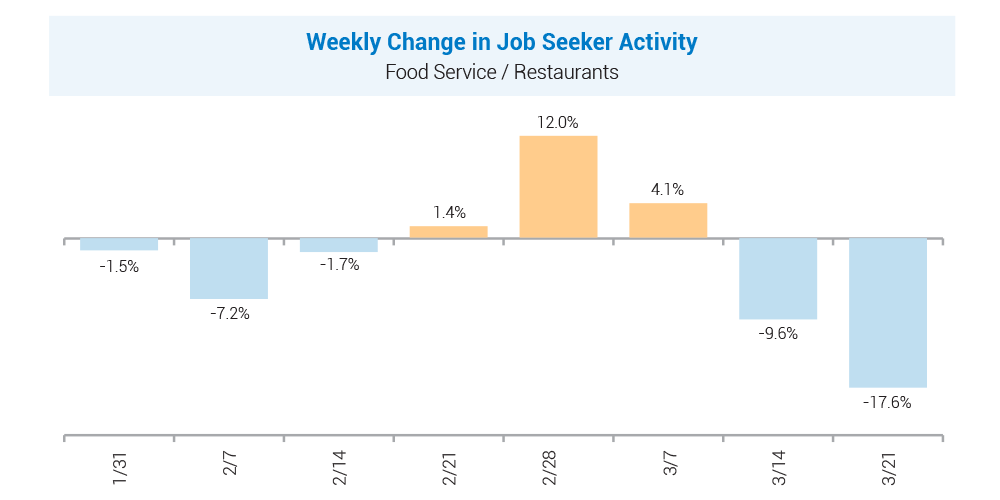 2. Competition is Getting Crowded
Demand for food service and hospitality employees will be high as sports venues reopen for limited spectators, outdoor dining resumes in states just coming out of winter, vaccines continue to be administered, and more people begin to travel again. Applicants will have many employers to choose from and won't wait to take an offer or change jobs. Also, keep in mind that there are adjacent industries with similar skill areas that might be competing for the same workers. Therefore, the speed in contacting workers once they apply will need to be faster than ever to get people into open roles.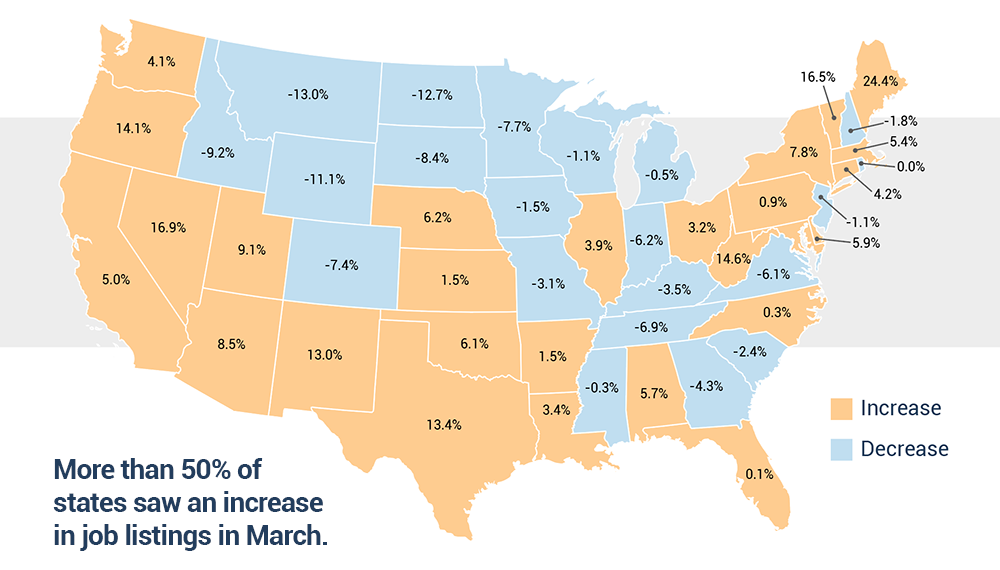 3. Older Workers are Becoming More Active
There has been increasing interest in Food Service jobs from Jobcase members age 55+ over the past 6 months. In recent weeks, this could possibly be a function of some having been vaccinated and feeling more comfortable about working outside the home.
As depicted below, from October 2020 to March 2021, older members interested in Food Service – aged 55-64 – grew from 19% to 23%.

Conversely, younger members searching for these roles have decreased over the same time period.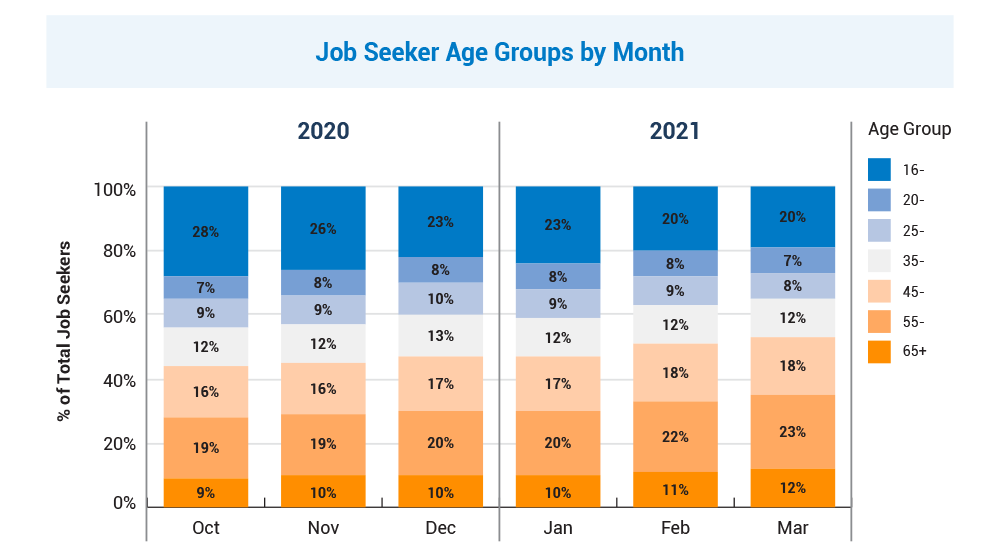 5 Suggestions for Hiring in Today's Labor Market
1. Understand the labor market as a whole is tight right now.
Read our most recent publication here to find out more. Be aware that worker sentiment and motivations are highly complex at the moment and this could last for several months – which means the cost for talent will continue to rise in the near term.
In order to allay concerns, it's a good idea to highlight everything your company has been doing over the last year to keep employees safe.
Be clear about expectations at all levels of roles and detail how you've listened to and adopted employee feedback.

Workers want to know their job isn't at risk. While this is hard to say with absolute certainty – potential candidates will feel much more confident in you as an employer if they know how you've taken care of your current employees during the pandemic.
3. Make it easy for people to find your jobs and apply to them.
If you haven't ever offered your application process by phone – or if you haven't in a while – you might want to give it a try. Sometimes applicants prefer a hands-on approach. Jobcase offers a variety of options for reaching our members – including phone-based communications – and plenty of flexibility to help employers hire at scale with job promotion, brand awareness building, and hiring events (both in-person and virtual).
4. Engage with the people you want to hire.
One of the most powerful ways to build trust with workers is to interact with them. Managing expectations, offering real time advice and revealing best practices can set you apart as an employer of choice with members in the Jobcase community.
5. Broaden and diversify your talent pool.
It's important for both your consumer and employer brands to be inclusive of people from all walks of life – including different age groups and backgrounds. Let potential employees see the possibilities by helping them to envision themselves working for you. Expand your audience by seeking out workers in other industries with similar skills.