Jobcase Worker Survey: What's really keeping workers from job searching
May 26, 2020
While Jobcase has previously shared analysis on job search and conversation trends to provide insights into workers' outlooks, we also know that workers' situations are evolving at an unprecedented rate. To help the Jobcase team and our employer partners better understand the current concerns of workers, we surveyed 1400+ individuals across the country about their work lives and how COVID-19 has impacted them.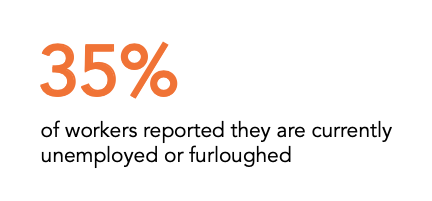 Workers have been hit hard by layoffs and furloughs in the wake of government responses to COVID-19. 35% of surveyed workers reported they are currently unemployed or furloughed, with the majority reporting COVID-19 impact as the primary reason for their unemployment. Unemployment figures have dominated national headlines in recent weeks, but Jobcase's survey results indicate that underemployment, reduced hours and pay, has also become a reality for many workers. 21% of surveyed workers had work hours and/or compensation reduced due to COVID-19.

Workers are not the only ones encountering difficulties today. As a partner to many companies continuing to hire during this crisis, we've learned that some employers are struggling to hire despite high unemployment. Some have attributed these challenges to temporary increases to unemployment benefits, which pay some workers more than their expected wages. While revamped unemployment benefits deter some workers from job searching, 61% of workers seeking unemployment reported that they have not been able to file or have filed and not yet received benefits. If unemployment benefits aren't the reason unemployed workers are cautious to job search, then what are the reasons?
Concerns about COVID-19 exposure on the job and during hiring processes are deterring many workers from job searching. 55% of would-be jobseekers emphasized concerns about COVID-19 exposure during hiring and 60% reported concerns of exposure on-the-job in available opportunities. To win over these workers, we encourage employers to hone messaging to highlight the steps they're taking to reduce COVID-19 exposure risk both during the hiring process and on-the-job.

It's critical to keep in mind that individual's face different barriers to returning to work. For example, 19% of would-be jobseekers reported that a lack of child or dependent care was a primary reason for holding off on the search for a new job. While this a smaller number of workers share dependent care concerns than reservations for COVID-19 exposure, it is understandably a much harder barrier for many workers to overcome. Savvy employers promoting positions allowing for flexible and part-time shifts should consider highlighting that workers may select or schedule shifts around family care needs to reach this audience.
Amongst those actively seeking work, needs for additional income are the most commonly reported motivation. 32% of workers indicated that they were job searching primarily due to a need for additional income to cover living expenses. General stability in work hours and pay are also very important factors, with 19% of respondents highlighting these concerns in their survey responses.
Understanding workers in today's climate is the first step for employers wanting to address their needs and win their confidence. Messaging on these topics can be difficult without an appropriate forum, especially for those employers trying to reach workers who aren't actively searching for employment. Conversations including these happen everyday on Jobcase.com and we encourage recruiters to engage with both passive and active job seekers in our community.
Read more about our community engagement results and how to leverage these findings in your job promotion strategy here
---

What is Jobcase doing for workers?
Not only do we seek to understand and support workers during difficult times, but Jobcase was built to advocate for workers as well. Jobcase CEO Fred Goff has been on the front lines evangelizing this advocacy in recent weeks. He has spoken with Forbes in a recent piece on essential workers and was interviewed on NYSE Floor Talk about COVID-19's impact on workers. The entire Jobcase team is working tirelessly to create new and better resources and tools for workers who are in need during this time. These resources and tools include:
An Unemployment Resource Center with state specific information
Newly launched state-specific topic pages to provide localized information
Our "For You" page with customizable content and jobs for members
A remote job-only filter on job search to quickly deliver work from home opportunities to anyone.
Universal search capabilities to better relevant find topics, jobs, posts, people, etc.
Interested in contributing? Employers and individuals can become Jobcasers by starting at Jobcase.com