Navigating the 2021 Labor Market Mismatch
April 3, 2021
An overwhelming demand for labor
Coming off a tumultuous 2020, many employers are experiencing extraordinarily tight labor markets right now. Post-pandemic hiring is escalating – creating the most challenging recruiting market we've seen since Jobcase was founded. Recent reports claim that the economy added slightly under a million jobs this past month, and we expect this trend to continue for some time.
69%

growth of job listings on Jobcase
since the end of January
So, where are the workers?
With an unemployment rate of 6% and initial unemployment filings still being extremely high – 719,000 this past week versus an average of 218,000 in 2019 – and a steady flow of vaccinations, one would think it would be easy to fill open roles in a re-emerging economy. But various factors could be slowing worker motivation to get back into the workforce – including fear, stimulus and unemployment benefits, switching to or training for a different job, and school, childcare or health concerns. These types of insights from workers have been revealed in our recent research:
18%

55% 

51%

still feel safety is their
biggest challenge
are interested in getting
additional skills
would like to try a
different type of job
What a difference a year makes
As one might expect, a comparison of 2020 and 2021 reveals a very different labor story. At this same time last year, there was an unprecedented rise in unemployment, and while the unemployment rate has since dropped considerably, Jobcase has seen a flip in job seeker activity and job listings. Typically, job seeker activity would be about 50% higher by mid-February versus the start of the year, but as of mid-March in 2021 it had remained only about 30% higher than on January 1st. Meanwhile, as opposed to the huge decline that began with the pandemic in February 2020, the number of job listings in 2021 have been increasing to record levels from mid-February to mid-March – around 30% higher relative to the beginning of the year.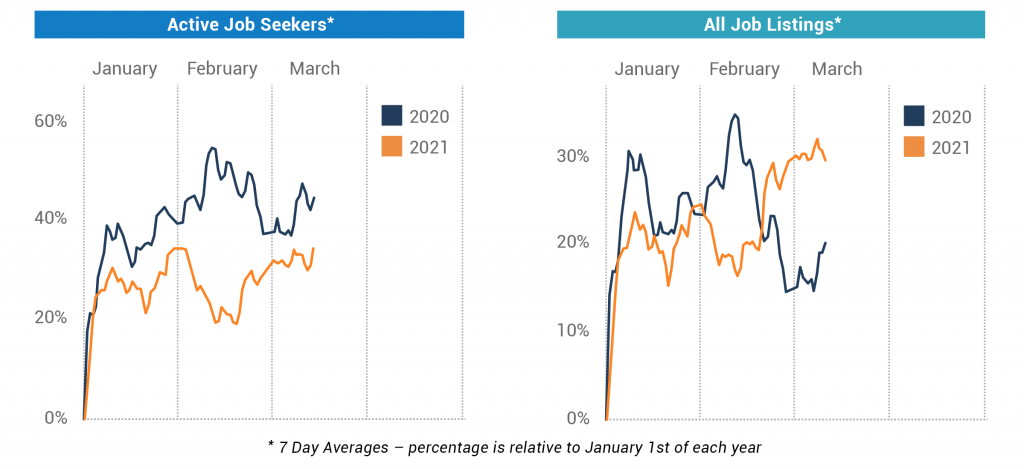 Coincidentally, March 10 is also the day that the third stimulus bill was passed. It's hard to know the effects the macro spending at the federal level will have at the moment, but there do seem to be indications of a further decline in job seeker activity in certain industries over the past couple of weeks (as indicated in grey below).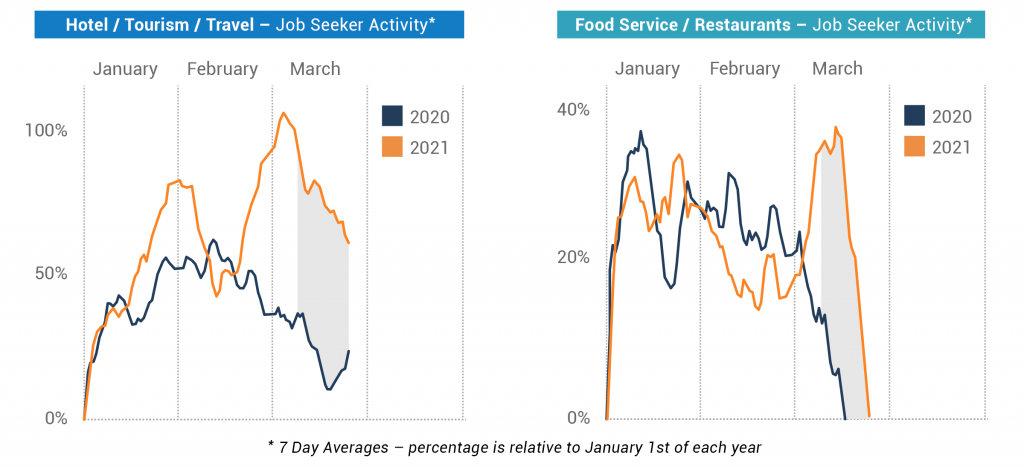 This means finding qualified candidates is now priced at a premium, which is why we are witnessing some large companies raising wages to compete. Hourly workers have been the backbone of healthcare, delivery, warehouse, grocery, and customer service businesses throughout 2020. And their importance only continues to grow, as the industries most impacted by the pandemic – food service, restaurants, hotel and travel – struggle to reopen and attract job seekers who may have migrated to other 'essential' roles or dropped out of the workforce. There also seems to be some real trepidation for workers considering a return to hospitality jobs – often known for long hours, uneven pay and unpredictable work schedules. This is causing employers in these businesses to reconsider their wage structures and policies.
---
Navigate the labor mismatch with the power of community
It is likely this supply/demand mismatch will continue to worsen for several months – perhaps until October after unemployment benefits end. As a social media community of workers, Jobcase has great options to help you hire at scale but – just as important in this environment – we can also help you interact with people you want to hire.
Engage with our members directly to build relationships.


There are millions of workers that help each other on Jobcase every day. They look to one another for advice and support. Your company can be an active part of helping them navigate the current challenges. Interacting with people in our community can help position you as an employer of choice.
Be a visible resource to job seekers.


Jobcase offers various ways to help employers get in front of and build awareness with our members. Creating a Company Hub helps workers get to know your business, learn about and apply to your open positions, and register for your hiring events. We also help employers talk about their hiring process or important subjects by publishing Sponsored Articles in our community.
Make it easy for candidates to get access to you.


Jobcase has several solutions – including flexible hiring event options – that make it easy for you to promote and host virtual events or schedule phone calls with potential hires from our community. It can also be advantageous to change your job descriptions to reflect your policies and how they can benefit worker's schedules and current situations.
For more ideas from Jobcase on meeting your hiring goals during this challenging time, please contact [email protected]