Let's do this!
June 10, 2020
As America begins to return to work, the staffing industry will play a huge role in assisting direct employers with rebuilding their workforces. By partnering to provide job opportunities in the communities we support, we can meet the needs of our customers while helping candidates reach the next milestone in their careers.
Over the last couple of weeks there's been a different energy in the Jobcase community. Conversations feel a little lighter, job search activity has increased, and job seekers are looking for their next opportunity! While there's a long road ahead as we work to rebuild our economy, we must remain diligent in our goal of finding work for our members. We know that a job can mean the world to an individual — this rings true more now than ever. We've built strong connections with our members, and we'd love the opportunity to share even more of your jobs with them.
"As one person I cannot change the world, but I can change the world of one person."
– Paul Shane Spears
Let's do this together,
Jim Hoen, VP of Staffing & RPO Solutions
Laura Turner, Director of Staffing & RPO Solutions
Katherine Rose, Director of Staffing & RPO Solutions
---
Customer Service / Call Center Industry Rebound
The customer service / call center industry took a major hit during the early stages of the COVID-19 pandemic with the industry falling to about 40% of pre-pandemic activity. However, May saw large week over week gains and ended with an overall 31% increase in job clicks compared to April.

This gain was not only seen in job clicks but also across other key metrics. We saw a 38% increase in job listings posted on Jobcase and a 26% overall increase in active job seekers coming to Jobcase to look for their next opportunity.

While generally, the increase in activity is happening across the US, there are certain metro areas that are increasing more than others: Houston, Atlanta, and Tampa all saw >50% increase in clicks in May. Alternatively, Los Angeles continued to decline in May, ending the month with a 19% decrease in overall traffic to customer service / call center jobs.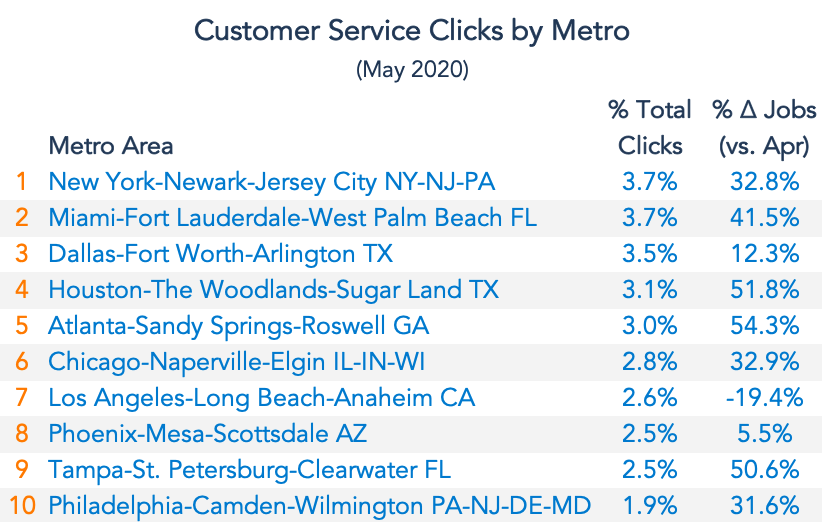 ---
Virtual Hiring Event Case Studies
A delivery services company ran 28 virtual hiring events during the month of May using Jobcase's Virtual Job Fair product. Their primary goal was to attract applicants, gather information about interested candidates, and begin recruitment by answering candidate questions about the job, company, and application process. This set of events gave this company over five thousand candidates at the top of their funnel, an average of 180 candidates per event.

Another Jobcase customer in the staffing industry ran 8 virtual hiring events with Jobcase using the Scheduled Connect product to phone interview candidates. These virtual events drove a massive 1,334 interested candidates to help solve the client's hiring needs, and 396 offers were made. 
---
What is Jobcase doing for workers?
Jobcase was built to advocate for those left behind in the economy and Jobcase leadership has been on the front lines evangelizing this advocacy. Check out a recent Fast Company article, where leaders from LinkedIn, Glassdoor, and Jobcase help to frame the challenges facing workers during and after COVID-19. Additionally, in the past few months, we've invested further in our platform to better support Jobcase members, releasing:
Unemployment Resource Center with state specific information
State specific topic pages to provide more localized information
For You page with customizable content and jobs for members
A remote job only filter on job search to quickly deliver work from home opportunities to anyone
Universal search capabilities to better find topics, jobs, posts, people, etc.
Google One Tap sign-in
Interested in contributing? Employers and individuals can become Jobcasers by starting at Jobcase.com
---