Jobcase Cares partners with nonprofits and government organizations to enhance their programs and create better outcomes for communities they serve.
Getting Rhode Islanders Back to Work
Rhode Island Governor Gina Raimondo recently announced an ambitious Back to Work RI initiative. This training and employment program aims to help hourly or low-wage workers who have been impacted the most by the pandemic. 
Jobcase is proud to collaborate with the RI Department of Labor and Training and the participating employers – CVS Health, General Dynamics Electric Boat, Amazon Web Services, Microsoft, Infosys and many others – to help thousands of unemployed workers get training, acquire in-demand skills, and secure better, higher-paying jobs by the end of the year. Rhode Islanders are encouraged to join the Jobcase Back to Work RI group. For more information, please visit DLT's Back to Work RI website.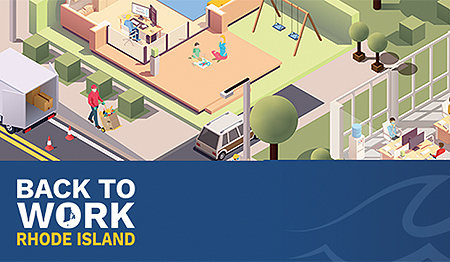 We provide our powerful technology to organizations that share our mission. Working together, we help underserved communities improve access to opportunity, and expand workforce participation. Download our summaries below to read more about our partnerships.
Partnership Summaries
West Virginians and Jobcase Work Together to Increase Employment
Download PDF
Providing Access to Opportunity with The Chicago Urban League
Download PDF
Partner portals powered by Jobcase